Dubai, UAE – May 6, 2021: Huawei, a leading global provider of information and communications technology (ICT) infrastructure and smart devices, today announced its partnership with Bespin Global, a leading cloud technology consulting and management company. Through this partnership, HUAWEI CLOUD will provide ubiquitous cloud and intelligence to Middle East enterprises.
Bespin Global has been HUAWEI CLOUD's strategic system integration partner globally since 2019. Under this new agreement, the companies are now extending their partnership to the Middle East, combining their capabilities to better serve the burgeoning GCC cloud market. Bespin Global's professional services delivery capabilities, coupled with their multi-cloud management platform "OpsNow", will play a strategic role in delivering the highest quality experience for Huawei Cloud's customers.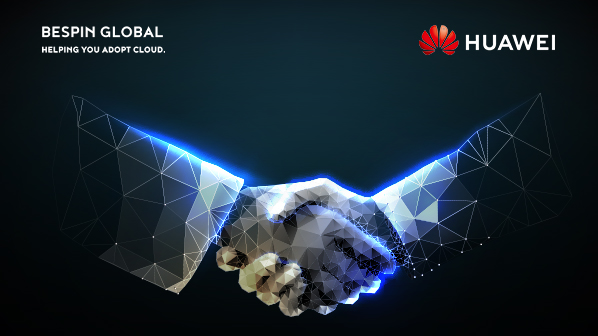 Countries across the GCC have witnessed an acceleration in cloud adoption, primarily due to the rise in remote work. According to International Data Corporation (IDC), the GCC public cloud market is expected to more than double in value, touching $2.35 billion by 2024 at a cumulative annual growth rate (CAGR) of 25 percent. In line with the growing demand for cloud services across the region, Huawei launched its cloud service in the Middle East in 2020 to provide ubiquitous cloud and intelligence for all scenarios, which includes smart public services, smart enterprise development, and smart city governance.
HUAWEI CLOUD customers in the Middle East will be able to benefit from Bespin Global's position as a world "leader" as per Gartner's 2020 Magic Quadrant for Public Cloud Infrastructure Professional and Managed Services. Combined with Bespin Global's OpsNow multi-cloud management platform, enterprises across the region can manage all of their public cloud infrastructure in one place as well as ensure agility by solving a organizational challenges quickly and easily.
Omar Akar, Managing Director and VP of Cloud and AI Business Group, Huawei Middle East, commented: "Our strategic partnership with Bespin Global will enable HUAWEI CLOUD to provide our Middle East clients with value-added services with the highest levels of performance, economic efficiency, security, support and cloud management. Huawei is the world's fastest-growing major cloud service provider, and with our alliance with Bespin Global, we are now better positioned to meet the growing demands of our regional customers."
Mouteih Chaghlil, CEO, Middle East & Africa, Bespin Global, said: "We are pleased that our partnership alliance with Huawei is extended to the Middle East and includes HUAWEI CLOUD which will further empower enterprises across the region. The transformation businesses have experienced in the past year have opened the options for more agile and flexible infrastructure including multi-cloud solutions. Our partnership with HUAWEI CLOUD allows to better serve our customers and fulfil the long-term strategic visions of governments across the region by further enabling digital transformation across industries."
HUAWEI CLOUD has launched more than 220 cloud services and 210 solutions. The company works with more than 19,000 partners and has brought together 1.6 million developers. The Cloud and AI Business Group further strengthens Huawei's position as a partner of choice in enabling enterprises' digital transformation journeys, by offering focused products which enable cost reduction and increased business efficiency via modern infrastructure solutions. The BU portfolio also offers next-generation multi-cloud strategy to increase agility via the automation of service delivery.
Founded in 1987, Huawei is a leading global provider of information and communications technology (ICT) infrastructure and smart devices. We have more than 197,000 employees, and we operate in more than 170 countries and regions, serving more than three billion people around the world.
Our vision and mission is to bring digital to every person, home and organization for a fully connected, intelligent world. To this end, we will drive ubiquitous connectivity and promote equal access to networks; bring cloud and artificial intelligence to all four corners of the earth to provide superior computing power where you need it, when you need it; build digital platforms to help all industries and organizations become more agile, efficient, and dynamic; redefine user experience with AI, making it more personalized for people in all aspects of their life, whether they're at home, in the office, or on the go.
For more information, please visit Huawei online at www.huawei.com.