Managing virtual machines whether on-premises or on cloud can become a time-consuming and expensive task for organizations. Automating the routine management tasks that come with virtual machines has therefore proved to be crucial for all businesses to save their teams from the IT overhead, allow them to focus more on their core business objectives, and become more agile and secure.
To address this issue, Microsoft Azure has introduced a service known as Azure Automanage, which automates many of the routine management tasks and ensures that virtual machines are set up and maintained according to best practices, making organizations more adaptable and responsive to changing business needs.
The service also brings a plethora of benefits to organizations including the reduction of operational costs, improved security and compliance, and an increase in operational efficiency and agility.
In this step-by-step guide, we will delve deeper into the features and benefits of Azure Automanage and how IT teams can set up, configure and onboard the service for virtual machines, and assist their organizations in achieving their business goals.
Effortless IT automation of cloud and on-premises infrastructure
Azure Automanage provides a unified solution for IT management. Automate operations and apply consistent best practices across the entire lifecycle of Windows Server and Linux servers in Azure or in hybrid environments enabled by Azure Arc.
Azure Automanage automates the configuration, deployment, and management of virtual machines in Azure, it also applies best practices for security, compliance, and performance automatically, so you don't have to worry about doing it yourself.
When you enable Azure Automanage for your virtual machines, it applies a set of predefined best practices based on industry standards and Microsoft recommendations. For example, configures security settings, installs the most recent security patches, establishes backup schedules, and configures monitoring and alerting, all of these tasks can be time-consuming and complex to set up manually, but with Azure Automanage, they're completed in minutes.
Azure Automanage uses a combination of Azure Policy and Azure Automation to provide a complete solution for managing virtual machines. Azure Policy enables you to enforce policies and compliance standards across your environment, while Azure Automation automates routine tasks such as patching, backups, and monitoring.
Azure Automanage is flexible and customizable to meet your specific needs, so You can customize the settings to meet your compliance needs, integrate it with your existing tools and processes, and even create custom policies.
This is a great choice if your IT requirements differ from best practices. For example, if your IT organization requires you to use a different antimalware solution and you do not want to use Microsoft Antimalware, you can simply turn it off when creating a custom profile.
Azure Automanage Features:
Quickly configure Windows and Linux servers with automatic deployment of Azure services such as Azure Monitor, Azure Backup, Microsoft Defender for Cloud, and familiar tools such as Windows Admin Center.
Choose from predefined, best-practice dev/test and production profiles or create custom configuration profiles of your own.
Reduce risk by automating frequent, error-prone tasks such as applying the Microsoft server security baseline to efficiently maintain operational security.
Improve workload uptime by proactively detecting and automatically remediating drift if machines diverge from the desired configuration state.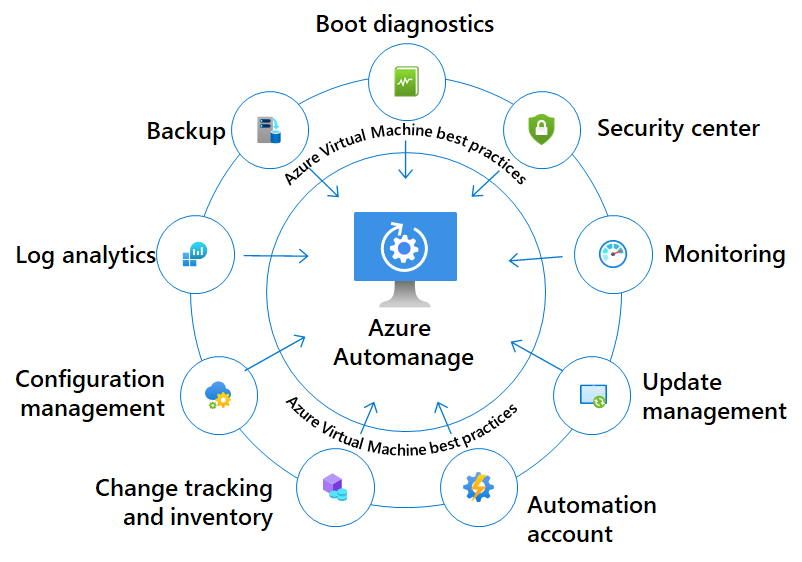 Patch without rebooting your Windows Server virtual machines with Hotpatch, only on Azure.
Easily migrate your workloads to Azure by extending on-premises IP subnets and preserving the original private IP addresses.
Securely access files when working remotely without a VPN using built-in SMB over QUIC, a secure file-serving protocol.