The centre and training academy launched with support from Abu Dhabi Investment Office's Innovation Programme
New facilities in the UAE capital bring industry-leading solutions closer to Bespin's regional customers, solidifying its position in the Middle East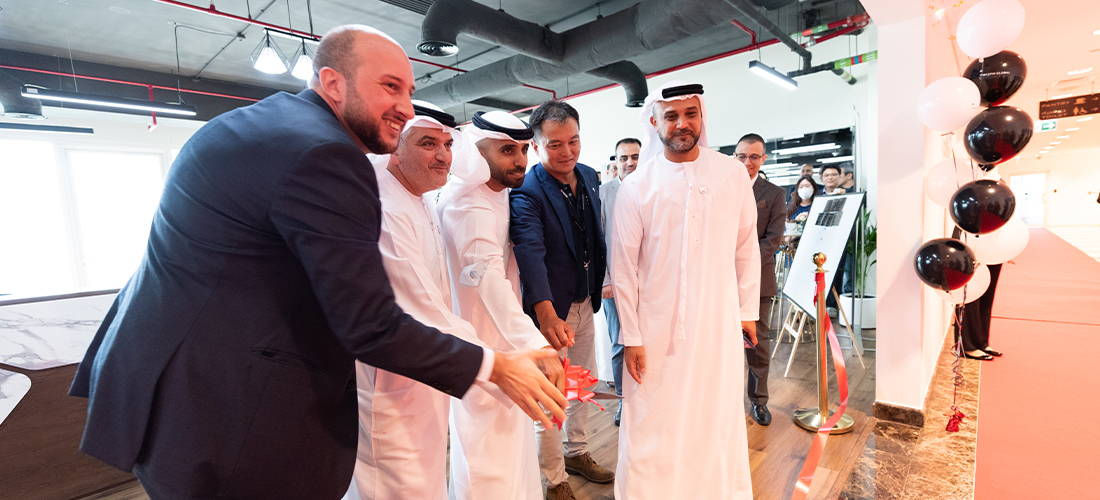 United Arab Emirates – 27 June, 2022 – Leading cloud consultancy and management firm Bespin Global today announced the opening of its new Middle East & Africa headquarters in Abu Dhabi. Featuring a Cloud Operations Centre, the first of its kind in the region, and the all-new Bespin Global Training Academy, the move highlights the company's expertise in providing industry-leading solutions to customers, while solidifying its position at the forefront of the Middle East market.
H.E Rashed Abdulkarim Al Blooshi, Undersecretary of Abu Dhabi Department of Economic Development (ADDED), H.E Sameh Al Qubaisi, Director General of Economic Affairs at ADDED, and Eng. Abdulla Abdul Aziz Al Shamsi, Acting Director General of the Abu Dhabi Investment Office (ADIO), attended the launch of Bespin Global's new headquarters. The ceremony was also attended by Hoon Park, Co-founder & Global Expansion Team Leader, Bespin Global, Mouteih Chaghlil, CEO of Middle East & Africa, Bespin Global, and Bazel El Sharif, Vice President of Commercial, Bespin Global, Vice President of Technology, Bespin Global, Wael Al Aaraj.
The new Bespin Global headquarters, located at Al Wafra Square on Al Reem Island, have been established with support from ADIO's Innovation Programme, to accelerate digital transformation in the region. The programme reaffirms Abu Dhabi's commitment to fostering innovative ideas and solutions that are regionally relevant and globally exportable.
The first-of-its-kind Cloud Operations Centre includes a Security Operations Centre that monitors threats to infrastructure and helps mitigate the likelihood of attacks. The Network Operations Centre is also located at the facility, continuously monitoring the health of servers and applications to ensure they run 100 percent efficiently.
Eng. Abdulla Abdul Aziz AlShamsi, Acting Director General of ADIO, said: "The opening of the Cloud Operations Centre and Training Academy shows the progress that Bespin Global has made in advancing digital capabilities in Abu Dhabi, and demonstrates their ambition to promote innovation. ADIO will continue to support Bespin Global, a key partner in the Innovation Programme, as it develops cutting-edge cloud security solutions and enhances competencies."
Hoon Park, Co-founder & Global Expansion Team Leader of Bespin Global, said: "The newly opened Middle East and Africa office in Abu Dhabi will become a cloud hall for the goal of ADIO and Bespin Global. Through the Cloud Operations Centre and Bespin Global Training Academy, we hope that the cloud talents nurtured in Abu Dhabi will accelerate the emirate's cloud transformation and further serve as a catalyst for digital transformation across the Middle East."
Mouteih Chaghlil, CEO of Middle East & Africa, said that Bespin Global will be able to provide 24/7 service to its customers throughout the year due to the Cloud Operations Centre, which will rely heavily on automation. "Cloud security is still nascent, so we intend to help clients navigate this territory with our expertise," he said. "Even though the Cloud Operations Centre is available on-prem, no other center that monitors the cloud exists in the region."
After the event, Bazel El Sharif, VP of Commercial, Bespin Global, stated that the Bespin Academy will integrate outcome-driven courses, hands-on laboratories, and performance-based tests to assess, train, and validate competency and skills using technologies offered by the company.
"With the launch of the Bespin Academy, our team will be able to offer and deliver authentic training courses to help partners, educational institutions, and students achieve their cloud technology learning objectives", said El Sharif. "This will in turn facilitate the closing of IT skill gaps and match the market's needs for cloud experts."
Last year, ADIO and Bespin Global announced a collaboration in which the Bespin Global, Middle East branch, would receive financial and non-financial incentives from ADIO in support of Bespin Global's expansion to Abu Dhabi and establishment in the emirate's global tech ecosystem. The partnership demonstrates ADIO's commitment to advancing digital transformation in the region.
Enabling domain-wide digital transformation, Bespin Global helps businesses accelerate cloud adoption with industry-leading solutions and consulting expertise, delivering service-level-driven outcomes. Recognized since 2016 as a "Leader" in Gartner's Magic Quadrant for Public Cloud Infrastructure Professional and Managed Services, Worldwide, and as a "Niche Player" in Gartner's 2021 Magic Quadrant for IT Transformation Services, Bespin's services include cloud strategy, migration, implementation, Big Data, DevOps, and FinOps. Supporting a customer-centric, multi-cloud approach, Bespin's team provides in-depth expertise and global experience to help navigate the maze of services, solutions, and technologies on offer from various CSPs — including Alibaba, AWS, Google Cloud, G42, Huawei, Microsoft Azure, amongst others. Bespin's automated, end-to-end cloud management platform, OpsNow, helps customers consolidate, visualize, manage, and optimize distributed, multi-cloud assets, reducing costs by 30 per cent or more.