Why you should attend the webinar?
Enterprise cloud migrations can be complex and time-consuming, but AWS's Migration Acceleration Program (MAP) can help you accelerate your cloud migration and modernisation journey with an outcome-driven methodology. MAP is a comprehensive and proven cloud migration program based upon AWS's experience migrating thousands of enterprise customers to the cloud.
In this session, you will get overview of MAP's value proposition including the tools that reduce costs and automate and accelerate execution, tailored training approaches, a global partner ecosystem.
Webinar Agenda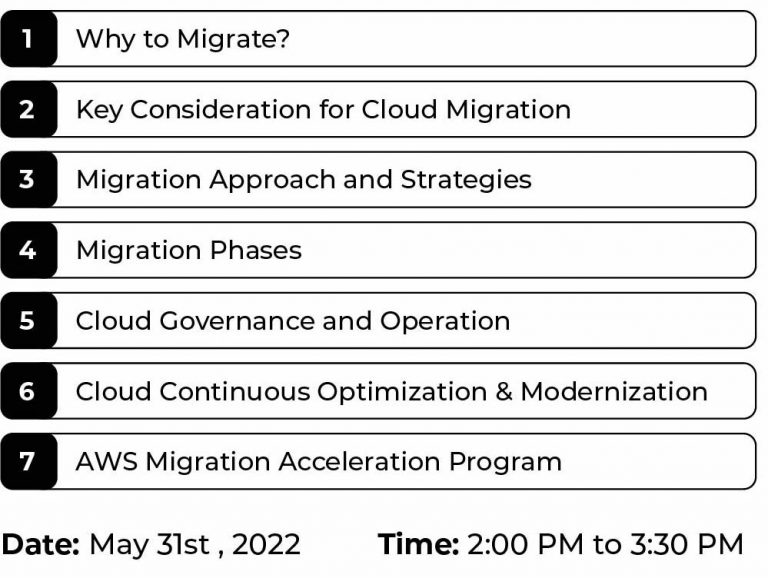 Ashwani Kumar: is a cloud migration expert and business development lead in AWS Migration Acceleration Program in EMEA. He has strong international experience of advising customers to strategize, shape and deliver large scale cloud migration and transformation programmes for enterprise customers in the UK, Middle East, Australia and emerging markets. He has worked for a diverse range of customers spanning multiple industries including Financial Services, Telecommunications, Retail, Oil & Gas and Logistics. He is AWS certified Solutions Architect, Cloud Practitioner and has an MBA degree from Cranfield School of Management UK.
Faiz Al Tinawi: Cloud infrastructure solutions expert with an outstanding experience in troubleshooting, Engineering and leadership. He has profound knowledge and great skills of modern business solutions. He has the ability for developing, maintaining, supporting and optimizing key functional areas, particularly network infrastructure, server infrastructure, data communications and telecommunication system. He is talented in Operation management and implementing IT Infrastructure solutions in the middle east region.