With the rise of hybrid cloud environments, businesses are adopting a mix of on-premises and cloud-based IT infrastructure. As a result, effective data protection solutions that span both on-premises and cloud environments have become increasingly important.
In this article we will explore how Veeam Backup & Replication can be used as a hybrid backup solution for on-premises, M365, and Amazon Web Services (AWS) workloads.
Veeam Backup & Replication is a comprehensive data protection solution that offers backup, recovery, and replication for on-premises workloads. The solution is designed to protect virtual, physical, and cloud-based workloads, making it an ideal solution for businesses with hybrid IT environments.
Veeam provides flexible backup policies that allow businesses to customize their backup frequency and retention policies. And it can integrate with many cloud services.
By leveraging Veeam Backup & Replication, businesses can centralize their data protection efforts and ensure their data is protected with consistent policies and processes.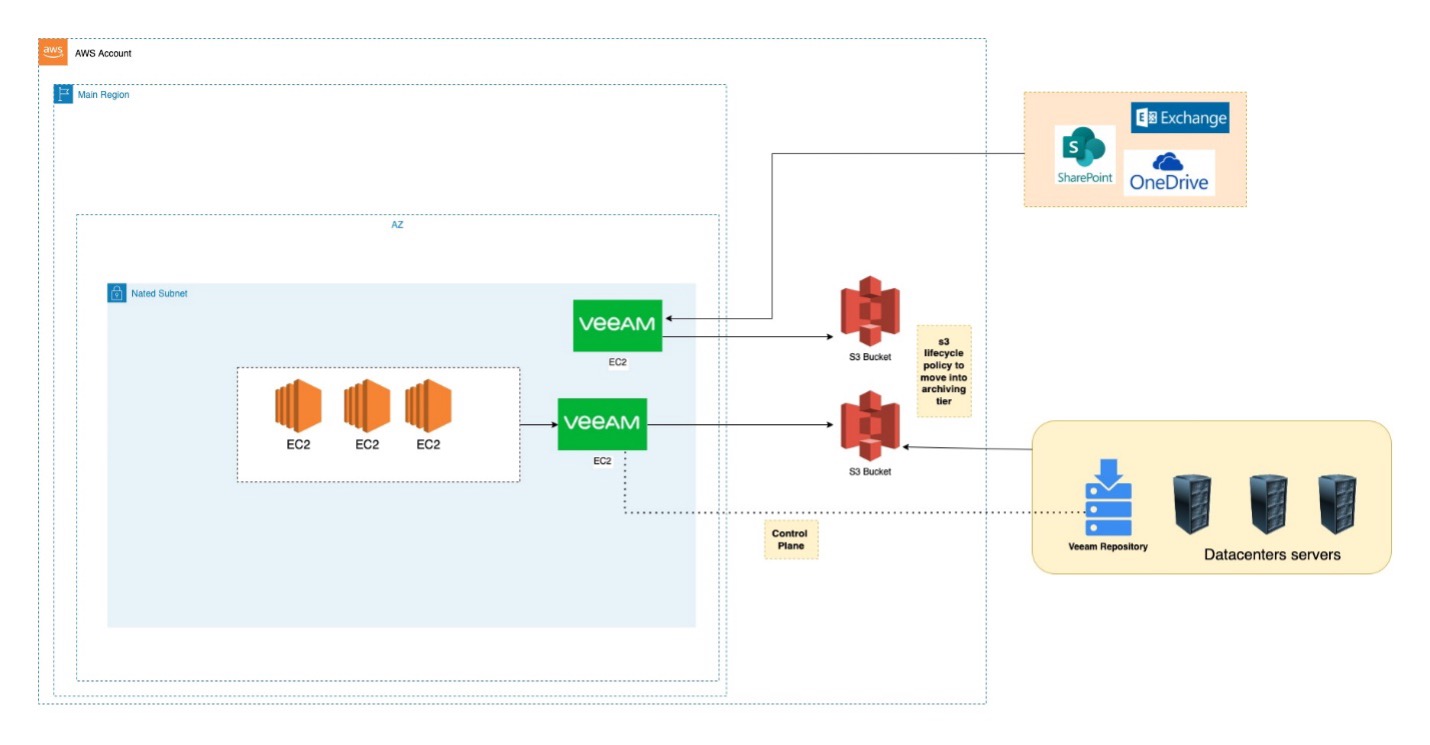 Solution components:
Veeam server for M365 products: Integration will be set up with M365 and send the backups into the S3 bucket.
Veeam server for managing backups for AWS and on-premises servers and sending them into the S3 bucket.
S3 lifecycle policy to move backups into archiving tier to reduce the storage cost.
Veeam supports multiple Amazon S3 storage classes to best fit your specific needs. You can choose the type of storage based on the data access, resiliency, and cost requirements of your backup or archive data. For example, you can store data that you don't plan to use for 30 days or longer in Amazon S3 infrequent access (IA) for a lower cost. If you're planning to archive data for 90 days or longer, you can use Amazon Simple Storage Service Glacier with Veeam's archive tier. You can also use S3 Object Lock to make backups immutable within Amazon S3.
The backup server coordinates, controls, and manages backup infrastructure, settings, jobs, recovery tasks, and other processes.
Amazon Virtual Private Cloud (Amazon VPC) provisions a logically isolated section of the AWS Cloud where you can launch AWS resources in a virtual network that you've defined.
Whether you are protecting your on-premises workloads, your AWS workloads, or both, Veeam Backup & Replication offers a robust and scalable solution that can meet your needs.